Hazel
Grouse Manor (HGM) Outfitters, in an effort to get away
from typical tours of Hokkaido, we will begin offering
Wildlife Tours that allow you to truly experience and enjoy
the beauty, and richness of Hokkaido.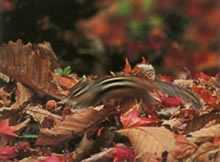 We have various tours, River Watching, Marshlands, Deep
Woods and Photo-expedition Courses. One of our experienced
nature guides will accompany you throgh various activities,
games, and evev field work for a genuine nature experience
that is far different from typical sightseeing. Original
tours, treks and environmental education program can also
be designed to fit your wishes.
River Watching
Using a river raft or canoe, float down the pure waters of Hokkaido.

Return to a forgotten river landscape and enjoy
Marshlands Course
Protected by the Ramsar Convention, the Kushio Marshlands.

Enter a world of flora and fauna displaying the gradual and subtle changes of
the four seasons.
Deep Woods Course
Explore the majestic nature from the foot of the Shiretoko Mountains,
listen to the sounds of these deep and ancient woods, and enjoy its treasures.
Photo-expedition
Capture Hokkaido's treasury of flora and fauna on film.

Perhaps enjoy a thrill akin to hunting as you go for that perfect shot.